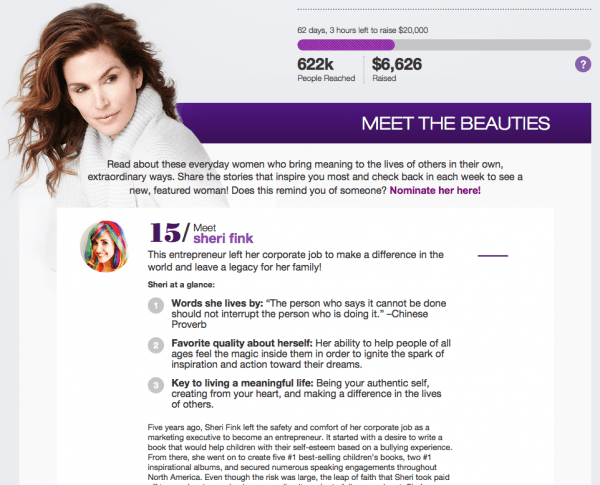 The inspirational speaker, author, and entrepreneur's story will benefit women everywhere and the non-profit Cancer and Careers
Inspirational speaker, best-selling author, and award-winning entrepreneur Sheri Fink is selected by supermodel Cindy Crawford to be featured in her Meaningful Beauty "Beauties Give Back" campaign as an "everyday woman who brings meaning to the lives of others in her own, extraordinary way."
The campaign uplifts women through powerful and motivational messages and raises money for Cancer and Careers, a non-profit organization that assists and empowers cancer patients. Each time a Meaningful Beauty story is shared on social media, one dollar will be donated toward the cause.
"I'm beyond words," says Sheri Fink. "I'm crying tears of joy. Giving back to women in a positive way is a mission I hold close and near to my heart. I hope that my story continues to inspire others to see the true beauty within themselves."
heri's definition of beauty is one that is applicable to everyone: "You are perfect just the way you are. It's okay to be different. It's not about chasing a number on a scale or conforming to someone else's idea of beauty, it's about honoring your unique self…It's about determining what really matters, and making decisions that align with your vision for your life. That's what makes us strong, builds our character, and determines our destiny."
For more information on the Beauties Give Back campaign, and to share Sheri's inspirational message, visit http://beautiesgiveback.com.
About Sheri Fink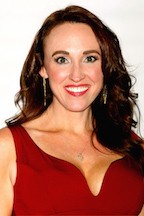 Sheri Fink is an inspirational speaker, a #1 best-selling author, an award-winning entrepreneur, and the founder of "The Whimsical World of Sheri Fink" brand.
Sheri writes books that inspire and delight kids of all ages while planting seeds of self-esteem. Her first book, The Little Rose, was a #1 bestseller on Amazon for over 60 weeks and became the #1 top-rated children's e-book on Amazon. Sheri is the recipient of multiple literary awards including three gold medals in the Readers Favorite International Book Awards. All five of her children's books were #1 bestsellers.
In 2013, her children's book series received the Gold Mom's Choice Award for excellence in family friendly entertainment. Sheri was selected by CBS Los Angeles as one of the top 3 authors in her local area, a distinction she shares with Dean Koontz. Sheri was honored with the 2013 Extraordinary Inspiration Award for her long-lasting commitment to spreading inspirational messages of hope and self-esteem through her books, her moving life story, and her brand.
Sheri's newest adventure is a contemporary romance. She was inspired to write Cake in Bed, her debut novel, to empower women to be their authentic selves and to not settle for less than they deserve in life or in love, because everyone deserves to have their cake and eat it too … preferably in bed!